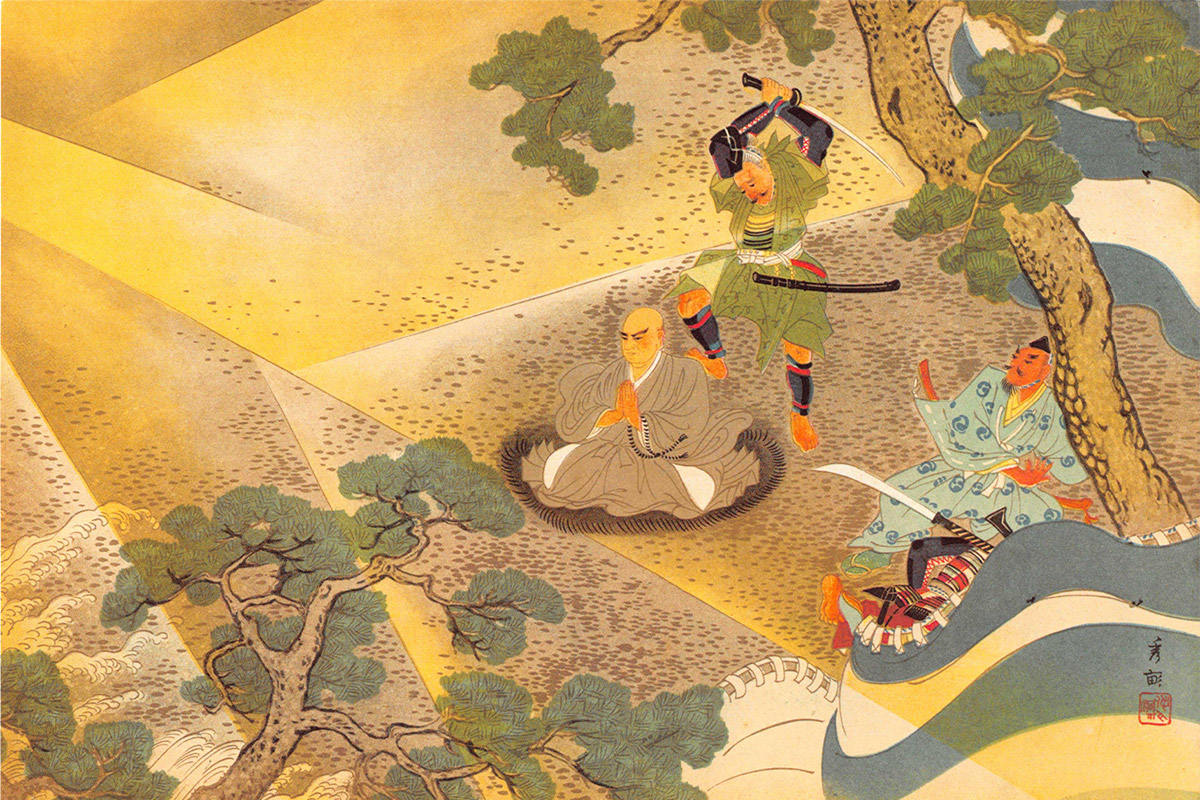 On September 12, 1271 (the eighth year of Bunnei period), Nichiren Shonin was brought to the execution ground at Tatsunokuchi (present Katase, Fujisawa city, Kanagawa pref.) for the punishment by decapitation. This is how it happened. In the year, the whole country has been hit by a severe drought, and the eighth regent of Kamakura Bakufu Tokimune HOJO commanded both Nichiren Shonin and Ryokan, who was a Buddhist priest of Kamakura Gokurakuji temple and recognized as a high priest of excellent virtue at the time, to pray for rain. Nichiren Shonin, of course, won the one-to-one battle, and Ryokan's pride was deeply hurt by that. After the battle, Ryokan immediately made a false charge to Bakufu claiming that Nichiren's harsh shakubuku (denying other sects' doctrines and persuading them to convert to the true Buddhist doctrine) to other sects is uncivilized behavior and ideologically extremely dangerous. This was exactly the religious persecution that upholders of the Lotus Sutra in Mappo period would be involved and that is written in the Lotus Sutra.
When the time for his decapitation has come, a mysterious lightning ball suddenly came down from the sky and broke the sword the executioner was holding into two. The scene made officials' flesh creep and the death sentence was not executed at last.
We have the faith in the Odaimoku today thanks to Nichiren Shonin's firm resolve of propagation regardless of the risk of losing his life. To repay his deep obligation, We, HBS members nominate September 12 as the day of Tatsunokuchi Gohonan Kinen (anniversary of Tatsunokuchi persecution) and hold a Kusho-kai (a Buddhist service in which members keep chanting the Odaimoku for long hours) and other memorial services at HBS temples all over Japan.